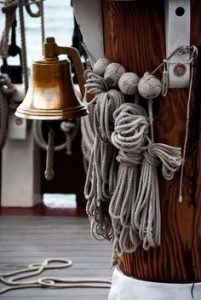 Friday 17 January 2020 • 6:30 PM
Start your weekend off on the right foot! Relax and socialize…
Come when you want, leave when you want! Dinner and adult beverages will be served in the Goose & Gridiron Room.
Remember that this is a casual event!
Ladies, Family & Friends are invited!
No tickets sold. Donations only.
Los Angeles Harbor Lodge
1640 West Ninth Street
San Pedro, California 90732
Stated Meetings held on:
1st Wednesdays
Dinner at 6:30 PM
Business Meeting at 7:30 PM
Masonic Organizations
in San Pedro
W H A T    I S     F R E E M A S O N R Y ?
Freemasonry is the world's first and largest fraternal organization.  It is guided by the enduring belief that each man has a responsibility to make the world a better place.  For 300 years, Freemasonry has enhanced and strengthened the character of individual men by providing opportunities for fellowship, charity, and the search for truth – within ourselves and the larger world.
The mission of the Masons of California – to foster personal growth and to improve the lives of others – is carried out through Masonic principles and tradition.
Our mission is guided by the enduring and relevant principles of our Fraternity:
Brotherly Love
We value respect, freedom, kindness, tolerance, and our differences – religious, ethnic, cultural, social, generational, and educational – and strive for harmony in our individual lives, in our lodges, and in the global community.
Brotherly love is one of the closest connections that exist between two people. This concept indicates we must be willing to overlook trivial criticisms or differences, and strive to always see the good in our brothers that will make us love them. We must put aside our biases and remember, "All men are my Brethren," and that, "By the exercise of brotherly love we are taught to regard the whole human species as one family – the high and low, the rich and poor – who are taught to aid, support, and protect each other."
Relief
We take responsibility for the well-being of our brothers, our families, and the community as a whole. We provide relief through philanthropy, community involvement, and delivery of excellent care.
Relief is often thought of as purely a form of charity, but there is an even greater, all-encompassing meaning to relief in Masonry. There are additional reasons a person may be suffering, other than just financially. He may be lonely, or have work or family problems bringing him down, and helpful advice or simply someone to talk to may be all the relief that he needs. According to this tenet of Masonry, to relieve the distressed is an obligatory duty of all men. As Masons, we aim to sympathize, to console, and to restore peace to troubled minds whenever possible.
Truth
We stay true to our personal code of conduct and ethics – honor, integrity, personal responsibility – and the continuous pursuit of knowledge.
In Masonry, to be good and true is one of the first lessons. Masons must always endeavor for truth, both within themselves and in their interactions with others. Masonry demands high moral standards, and its members strive to uphold these principles in their public and private lives. Without truth, there would be no foundation for trust and fellowship.
Overall, although many expanded definitions of the three principal tenets exist, at its center, the teachings of Freemasonry instill in its members a moral and ethical approach to life; and, as Masons, we must always strive for these values to guide us in our everyday lives.
R E W A R D S    O F    B E I N G    A    F R E E M A S O N
Masonry is a community of men and their families who share similar beliefs and values. The fraternity finds it important to connect with other men of honor, compassion, love, trust, and knowledge, regardless of their race, color, religious beliefs, political views, sexual orientation, physical ability, citizenship, or national origin. We are friends and brothers, and are connected through this vital and uplifting organization of moral men.
Our continuing pursuit of truth, knowledge, ethics, and leadership skills makes us better men and brings more meaning to our lives. Learning the tenets of Freemasonry, paired with being an active part of our community, gives us the opportunity to develop leadership and organizational skills, and builds self-discipline through commitment and self-confidence.
As a member of the Freemasons, the Grand Lodge of California, and Los Angeles Harbor Lodge No. 332, we are a part of a worldwide organization that values tradition, history, and timeless wisdom. The traditions and core values of our fraternity are meaningful today and will endure for centuries to come because of our direct impact in our community, through our charities, and on a personal level.
R A I S I N G    F U N D S    F O R    C H A R I T Y
The Annual Masonic Feast of St. John the Baptist
Celebrating the 300th Anniversary of Modern Freemasonry
H E L P I N G    O U R    C O M M U N I T Y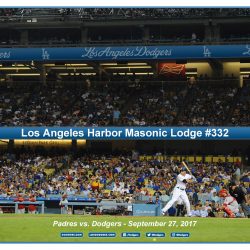 Through the Masons-4-Mitts program, the California Masonic Foundation partners with popular baseball teams to help underserved youth.
Each baseball season, teams of lodges face off in friendly competition to purchase baseball mitts for children in need. Each mitt is embossed with the Masons of California logo.
Over the past nine years, the Masons of California have provided more than $600,000 in gifts to support under-resourced youth.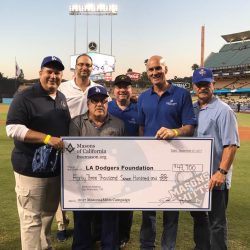 Los Angeles Harbor Lodge membership is open to men, 18 and older, who meet the qualifications and standards of character and intention, and who believe in a Supreme Being. Men of all ethnic and religious backgrounds are welcome.
One of Freemasonry's customs is not to solicit members – men must seek membership on their own initiative. Anyone is welcome to request information about the fraternity.
If you are interested in applying for membership to our lodge, now is a good time to start. Please contact us to schedule a visit during an event, or to request more information.
Freemasonry is kindness in the home; honesty in business; courtesy toward others; dependability and honesty in one's work; courtesy in society; compassion for the unfortunate; resistance to evil; help for the weak; forgiveness for the penitent; concern for good government; support for public education; and – above all – a life-practicing reverence for God and a love of fellow man. Freemasonry is many things but, most of all, Freemasonry is a way of life.