Sunday 16 October 2022 • 4:00 PM
Join us for an afternoon of fun, food and relaxation!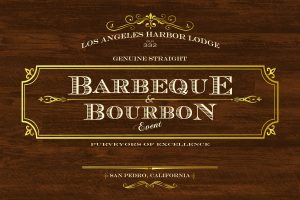 Los Angeles Harbor Masonic Lodge
1640 West Ninth Street
San Pedro, CA 90732
Schedule:
4:00 PM Doors open
4:00 PM – 6:00 PM Bourbon, Beer & Wine Tastings available
6:00 PM – 7:00 PM Casual buffet dinner service
7:00 PM Additional social time
See below for the important stuff…
Do you like going to wineries, breweries, and distilleries to try new beverages? Are you tired of the same old selections on the menu? Would you like to try some new bourbons, or wines, or beers and maybe learn something new…or expand your tastes?
Are you curious about bourbon whiskies, but are afraid to pay a significant amount of money at a restaurant for a glass you know nothing about, or invest in a whole bottle of bourbon at your local store that you might not like?
Would you like to experience something new?
We have an event for you!
Join us as we socialize…and eat…and sip…and watch the sunset over the harbor!
We'll be serving a casual BBQ dinner on the patio where you'll have the opportunity to sip a variety of bourbon whiskies that span various levels of intensity. We're also serving beer and wine for those who want something less intense.
This is a great way to unwind and enjoy a lazy Sunday afternoon with your family and friends.
You surely won't want to miss the once-a-year opportunity!
Seating is limited! Get your tickets now to avoid disappointment.
Dinner included.
Must be 21 years of age or older for tastings
Tickets on sale through 12 October 2022
Ladies, Family & Friends are invited!
Tickets $25 per person in advance | $35 at the door.
Tickets may be purchased online at www.SanPedroMasons.org or buy using the button at the bottom of this page.
Remember that this is a casual event!