Friday 5 October 2018 • 6:30 PM
Join us for an evening of fun, food and educational discussion!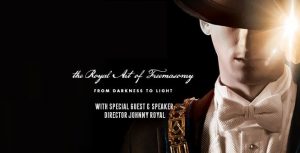 33 & Beyond: The Royal Art of Freemasonry
Los Angeles Harbor Masonic Lodge
1640 West Ninth Street
San Pedro, CA 90732
Schedule:
| | |
| --- | --- |
| 6:30 PM – 7:30 PM | Casual buffet dinner service |
| 7:00 PM – 8:30 PM | Movie screening |
| 8:30 PM – 9:30 PM | Discussion with filmmaker Johnny Royal |
| 9:30 PM – 11:00 PM | Social |
See below for the important stuff…
We hope you can join us for a very special evening as we continue the movie nights at our Lodge. Our esoteric research group, Keepers of the Word, will be hosting this movie night along with many other educational events and lectures in the future.
For this event we will be showing: 33 & Beyond: The Royal Art of Freemasonry.
The filmmaker and director, Johnny Royal, will also present for the evening to speak about and discuss the film and other topics of interest.
Movie Synopsis:
The seven-year journey of writer and director Johnny Royal through the ranks of Master Mason, Knight Templar, and the 32nd Degree of the Scottish Rite is featured. The documentary contains over 140 hours of footage, including interviews with Freemasons and some never-before-seen insider footage.
Director's Biography:
Johnny Royal's work as a director includes 33 & Beyond: The Royal Art of Freemasonry, as well as numerous commercial spots across various industries. As a composer, Royal is best known as the founding member of the industrial rock band Black Lodge and for his compositions, which have appeared on numerous hit television series, including VH1, The Chelsea Handler Show, and LA Ink. He has written with several notable musicians including Jeordie White aka Twiggy Ramirez, Gilby Clarke, Sean Beavan, and the Grammy-nominated producer, Johnny K.